L'objet que vous recherchez est en rupture de stock, mais nous en avons trouvé un autre similaire.
Wild Republic Cuddlekins minis 8" Bébé Lion Peluche Jouet Doux Peluche Teddy 108
18,81 EUR
+ 17,63 EUR de frais de livraison
Livraison estimée le
mar. 29 oct. - ven. 1 nov.
L'acheteur paie les frais de retour
Inclut le suivi international.
0,00 EUR (environ) de frais d'importation confirmés lors de la finalisation de l'achat.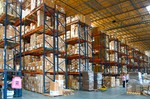 meggarsales
Note d'évaluation

(1697)
100% d'évaluations positives
Objets associés susceptibles de vous intéresser
Description de l'objet
"
Wild Republic 20 cm Cuddlekins lion baby plush toy. This hand-crafted soft toy is made of high quality plush and therefore playful and fun for all ages. Furthermore with the natural and authentic design It has a learning effect on children who are about to discover wildlife.
"
Tout afficher
Les plus recherchés dans la catégorie Autres
26,99 EUR Neuf

---- Occasion